Muffler and exhaust – for great performance and reliability
---
Your car's exhaust system has a number of components that reduce noise and harmful emissions produced by the engine. If one of the components fails it can affect your fuel mileage, create a lot of noise and raise a big stink.
Talk to Midas! From exhaust and muffler repair and maintenance through to a new performance exhaust system, you'll find Midas has all your exhaust system needs covered. To arrange a car exhaust system inspection, visit your nearest Midas branch or make a booking online.
Services
Exhaust repair
Muffler replacement
Catalytic converter replacement
Oxygen sensor replacement
Exhaust manifold replacement
Diesel particulate filter (DPF) service and replacement
Performance header installation
Custom exhaust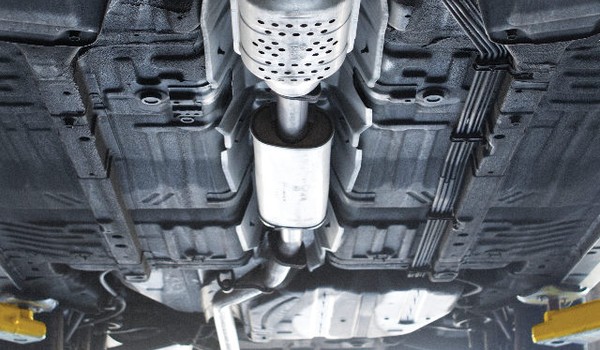 Frequently asked questions
---
Q: Should I worry about smoke coming out of my exhaust?
A: If it's white, it's probably steam and nothing to worry about unless it continues after the engine has warmed up. Constant white smoke, or darker colours like blue or black, could indicate an issue with your engine. Bring your car into Midas for an inspection and quote.
Q: How long does a muffler last?
A: Most modern exhaust systems are stainless steel and more resistant to corrosion. They can last between 10 and 20 years.
Q: When is it time for a new muffler?
A: If you notice more noise when driving, it may be time for a check. You could have an exhaust leak or muffler failure. Bring your car into Midas for an inspection and quote.
Q: What does a catalytic converter do?
A: It helps convert harmful emissions into less harmful ones. A catalytic converter usually lasts as long as your car, but a failure can raise emissions and affect engine performance.
Q: What is a diesel particulate filter?
A: It filters soot from a diesel engine exhaust. It will fill up and needs regular cleaning or regeneration.