Brakes – Nothing impacts car safety and handling more than brakes
---
Faulty brakes? Is your hand brake struggling on hills? Slowing down a problem? Noisy brakes, worn brake pads, or brakes that pull the car to the side can cause an accident and also can fail on a Warrant of Fitness. Don't take risks with your safety. Get those brakes inspected before something really serious happens.
We do more that 10,000 brake repairs every year on all makes and models. Our service includes brake fluid flushing, pad and shoe replacement, rotor and drum machining or replacement, hydraulic component diagnosis, and more.
Services
Brake fluid flushing
Pad and shoe replacement
Rotor and drum machining or replacement
Parking brake service and repair
Hydraulic component diagnosis, service and repair (calipers, cylinders, hoses and lines)
ABS diagnosis, service and repair.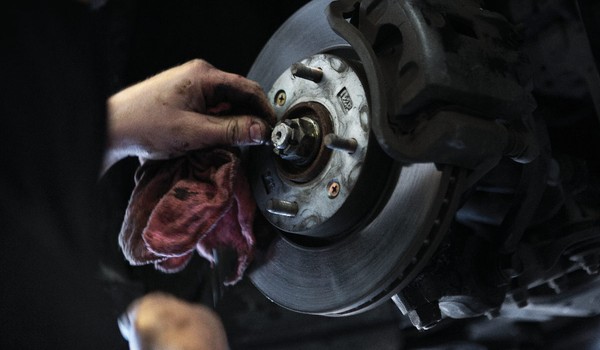 Frequently asked questions
---
FAQs
Q: Why are my brakes making noise?
A: Brake squeal can be caused by pads vibrating, clips losing tension, poor pad fit or a damaged pad. A grinding noise is more serious – your brake pad has completely worn away. Either way, your brakes need attention.
Q: Why does my car pull to one side when I brake?
A: You could have a hydraulic, mechanical, steering or suspension problem. Bring your car in for a thorough inspection soon.
Q: My brake pedal feels soft and spongy. Is that bad?
A: You have a mechanical or hydraulic problem. If you have to push your brakes harder than usual to stop, bring your car in immediately for an inspection.
Q: Do I need to change my brake fluid?
A: Yes. Brake fluid absorbs moisture, which can corrode your brake components and affect performance. Brake fluid should be flushed every one to two years; our Peace of Mind Inspection will let you know if your brake fluid needs changing.
Q: Why does the car shimmy when I brake?
A: Your rotors may need attention. Bring your car in to Midas for an inspection.
Q: How long do brakes last?
A: Between 40,000 to 100,000km. All brakes wear out – how quickly depends on your driving style. Frequent, hard braking will shorten your brake life.
Q: Why do I have to fix or replace my rotors?
A: Over time, brake rotors can warp or crack. Machining can restore the rotor face, lengthen the life of the brake pad and improve braking performance. Eventually rotors get too thin for machining and must be replaced.
Q: Why did my brakes fail the WOF?
A: There may be an issue with your brakes or parking brake performance. The reason for failure will be noted on your WOF check sheet. Bring it in to Midas – we'll do a thorough inspection and give you an estimate for any repairs needed.